Break A Leg –
And 10 Other Theatre Superstitions
by Ian Nathaniel
You've probably heard this phrase like a few million times. Remember those times in school before you sat for exams, when you'd shout to your friend at the other side of the room- "Break a leg!" Even when you didn't know what it meant.
Here are some other theatre superstitions, tho weird, it's legit. Well, legit enough.

Imgur
Break A Leg!
It is bad luck to say good luck to a performer. In theatre, a leg is a curtain, and to break a leg is to break the curtain possibly because of the amount of curtain calls. "It's verboten, wishing "luck" on opening night. Take advice, don't think twice or your show will surely end up in the Scheiss!" – Franz, The Producers.

Tumblr
Blue is Bad
Back in the day, it was considered bad luck to wear something blue onstage except when it's countered with something silver. But 'Belle'? Blue was considered to be a very expensive dye colour to acquire, hence failing productions would wear blue to make the production seem more successful and to add to that success, it was worn with silver.

Imgur
Never Say The Last Line
During dress runs, it was a bad omen to complete the whole play without an audience. That is why companies never finish the play during rehearsals, by avoiding the last line. It is also bad luck to perform the final bow without an audience.

Tumblr
No Mirrors
Everyone knows that breaking a mirror will cause seven years of bad luck; now add the theatre into that equation. The reason behind the mirror thing is because it can cause technical issues when it comes to lighting. But of course, no one can forget the infamous mirror scene in 'Chorus Line'.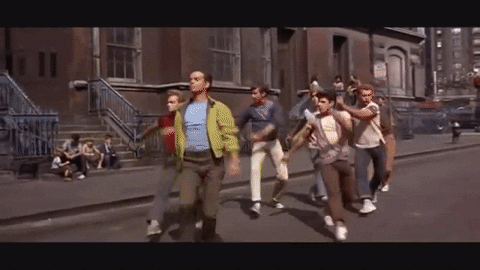 Imgur
Whistle Not 
Does that mean 'West Side Story's Prologue' is life threatening? For theatre, it's bad luck for anyone to whistle on or off stage, and will eventually get him or her fired. A whistle can be mistaken by the stage manager as a cue for a change of scenery or props, and in turn could harm the actors.

Tumblr. And for Spongebob which has been turned into a musical. Why?!
Ghostly Lighting
Conventionally, a light is placed downstage centre when the theatre is not in use as to keep the ghosts at bay with clear vision. The explanation behind this is that back stages are usually cluttered with sets, props, costumes and many others things, so going into a pitch black theatre might cause injuries.

Tumblr
Dark Day
Have you ever checked out show times and found that there is a day skipped? It's called a dark day, or black day which is suppose to be the day the spirits come out to do their thing. But this day also conveniently gives the company an off day; usually a Monday.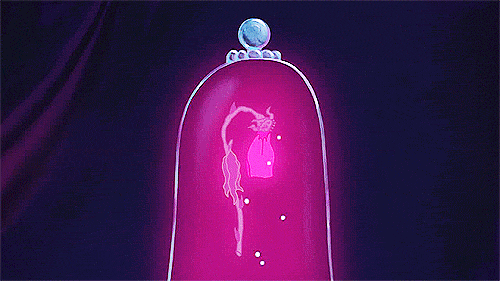 Tumblr
Flowers from the Grave? 
It is bad luck to give anyone from the company flowers before the show. Graveyards flowers however are a given when a show closes, to symbolize the death of a show and that it can now be put to rest. After all, graveyard flowers are free.

Tumblr
Fake Stuff
There are several props that are considered bad luck to have on the stage, such as money, jewelry, and even the bible. Some of these are derived from the fear of the props getting stolen due to their value. Pfft! *looks at Glinda's 16,000 USD bubble gown* Yeah right.

Tumblr
Peacock Feathers and the Evil Eye 
These are banned because it is said to have caused forgotten lines, broken set pieces, and other disasters. In a peacock feather, the eye pattern is said to represent an "evil eye". The Greek monster Argus best illustrates the association between the peacock feathers and the evil eye.

Tumblr
The Infamous Scottish Play
Saying "Macbeth" in a theatre will result in extreme bad luck. Instead, theatre folk usually refer to Macbeth as The Scottish Play or The Bard's Play. A weird cleansing ritual has to be done to counter the curse that involves spitting, cursing, spinning, running, etc. Of course there are several explanations for this curse, with the main one being witchcraft. There's something about how Shakespeare himself got the words from witches, or the prop master stole a cauldron from a witch, or how Shakespeare put a curse on the play himself so that no one other than him may direct the play correctly. In which case, Shakespeare is the original Voldemort.